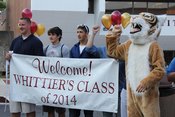 Freshmen Orientation Day
Students must apply for admission to Whittier Regional Vocational Technical High School. All students must meet the Admission Policy standards established by the WRVT School Committee to be considered for admission. To be eligible for a vocational/technical certificate, students must attend both academic and vocational classes on-site at the school. The Massachusetts Department of Education and Massachusetts Board of Education have approved this policy.
At its discretion, the Whittier School district may admit out-of-district students under the provisions of Chapter 76, Sections 12 and 12B of the M.G.L., providing that such students have met the standards of the Admission Policy. Acting on behalf of the WRVT School Committee, the Superintendent, or his/her designee, will see that procedures are developed by which applications for admissions from out-of-district students will be received and processed.
Complete information regarding the policy and application procedures can be found in the Admission Policy.