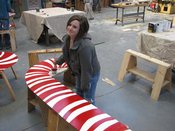 Students made giant candycanes for Haverhill's Christmas Stroll.
Whittier has a long history of community service that is reflected in everything we do. We take pride in maintaining our own campus by completing a myriad of projects such as building dugouts for our baseball fields, wiring new security cameras and building our own lacrosse goals. We also travel to our 11 member cities and towns to perform holiday concerts as well as prepare and serve luncheons for up to 75 elderly members of Councils on Aging.
Under the supervision of their vocational-technical instructors, our students have built additions to town garages, chairs for a Hospice raffle and giant gingerbread boys and candycanes for holiday celebrations in downtown Haverhill.