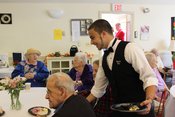 Senior Sean Campbell clears the table at the 40th Anniversary of Rowley Housing Authority`s elderly complex
View more pictures
Culinary students impress the crowd at Rowley Housing Authority
ROWLEY - When the director of Rowley Housing Authority started to plan a celebration of the 40th Anniversary of the elderly housing complex in town, she knew who to call to cater it. "My colleagues at other housing authorities asked me, 'How did you get them?' " said Director Joan Petersen. "I told them I just called and asked."
It was Whittier Tech culinary arts students who served at yesterday's event, which included state and town officials and 50 residents of Plantation Drive Elderly Complex. Students received rave reviews for both the food and service. The day was part of the school's commitment to community service in the 11 cities and towns that make up the Whittier District. Masonry and carpentry students from Whittier recently built an addition on a town garage in Rowley, saving the town thousands of dollars in labor costs.
"This is the best-kept secret," said Ms. Petersen. "These kids are going to be the next chefs and restaurant owners, and plumbers and electricians. I can't say enough about Whittier."
Dressed in black and white server uniforms and all-white chef outfits, students served a selection of breads, muffins, cold sandwiches, drinks and desserts they had made back at Whittier's kitchen. Health Occupations students also attended to assist and chat with the residents. Resident Helen Downing said she was thrilled to meet them. Her son Russell Downing graduated from Whittier in the 1980's and her two grandsons also attended the school. "I love it," she said. "Thank you for a job well done!"
Melanie Loveland from the Mass. Department of Housing and Community Development and Essex County Sheriff Frank Cousins, Jr. agreed.
"Your students do a fabulous job," said Ms. Loveland.